Igbinedion University To Maintain Production Of Exceptional Scholars – Esama of Benin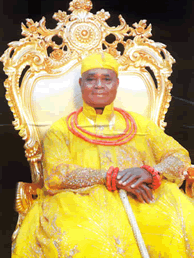 Chief Gabriel Osawaru Igbinedion, the Esama of Benin kingdom has declared that Igbinedion University, Okada, Edo State would continue to offer the best to its Students, in order to maintain its premiership position among private Universities in the country.
Chief Igbinedion, Founder and Chairman, Governing Council of the University who made the promise while speaking at the 20th Founder's Day celebration, said the University would continue to build on the high standard it has attained in its 20 years of existence, with a view to maintaining the production of the best and exceptional scholars.
The Esama of Benin, who was showered with encomiums by all speakers at the occasion for his foresight in establishing the first private university that was described as first of its kind in Nigeria, gave kudos to General Abdulsalami Abubakar, former Nigeria's Head of State for making the establishment of the University possible.

Chief Igbinedion said that all praises should go to God Almighty and the former Head of States who he said appended his signature to the certificate of approval of the University, when he was the number one citizen of the country 20 years ago.
He also paid glowing tribute to former military President, Gen. Ibrahim Babangida for promulgating the private University decree before leaving office.
Prof. Lawrence Ikechukwu Ezemonye, Vice Chancellor, Igbinedion University, Okada while welcoming dignitaries to the University's 20th Founder's Day celebration said since the establishment of the University in 1999, it has continued to champion educational revolution in higher instutions in Nigeria.
The Vice Chancellor also said Igbinedion University has changed the narrative in higher education pedagogy, remaining relevant as a private University with public interest and with cosmopolitan societal Impartation.
According to him, being Nigeria's premier private University with certificate No. 01 is transformational and also an astonishing achievement.
"The institutional innovation that Igbinedion University represents since the last 20 years of existence is absolutely path-breaking and exemplary in Nigeria higher education.
"The University now has seven colleges with 29 departments fully accredited by the National Commission (NUC) and all relevant professional regulatory bodies", he said.
Monday, May 6 to Friday May 10, 2019 rolled out the drums to mark the institution's 20th anniversary and Founder's day celebration.
According to Prof. Lawrence Ikechukwu Ezemonye, Vice Chancellor of the institution, the events were specially packaged to mark the university's trailblazing achievements since its establishment as Nigeria's first private university.
Dignitaries who graced the event included: General Abdulsalami Abubakar, for Nigerian Head of States; Dr. Nike Akande, former Minister of Industry; Prof. Munzali Jibril, Chairman, Committee of Pro-Chancellors, who is the Guest speaker and the Governor-elect of Oyo State, Engr. Oluwaseyi Makinde.

According to reports, the University was established on the 10th of May, 2019 by Chief (Dr.) Gabriel Osawaru Igbinedion.

---
Copyright 2019 @ Igbinedion.net | The Esama of Benin Kingdom . Web Enquiries: webmaster@igbinedion.net