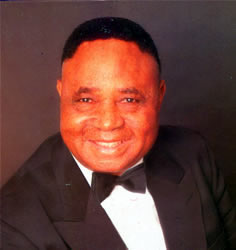 ---
---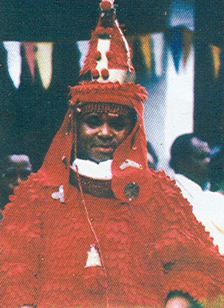 THE
ESAMA
OF BENIN KINGDOM
---
---
The Great Life of A Pioneer
Igbinedion as a Benin family name is now a household word. It has become synonymous with Aviation, Industry, Education, Finance, Medical Care and Rural Development at local, national and international levels. The man who has made this possible in Africa is Sir (Dr.) Chief Gabriel Osawaru Igbinedion, the Esama of Benin Kingdom.
Chief Igbinedion has attained great heights in life reminiscent of great achievers. He is a philanthropist and and a humanist of national dimensions and an industrialist of international fame...read on
A FEW ACKNOWLEDGEMENTS OF CHIEF'S IGBINEDION'S PHILANTHROPY
---
NEDOGHAMA
A Socio-cultural Organisation of the Edo People
29 1 st West Circular Road Benin City
6th January 1982
The Esama of Benin
Benin City
Bendel State
Appreciation
On behalf of the entire members of N'EDOGHAMA, we express our deep appreciation of your contributions to the development of our land. We refer particularly to the noble role which you played during the launching of Edo State Movement recently. Members of N'EDOGHAMA were impressed. They saw your donation of N50,000 (Fifty thousand naira) as a demonstration of selflessness and patriotism. On behalf of all Edo people, we would like to say thank you and God bless you.
Ise Iogbe.
Your compatriot,
Signed: WO.A. Bazuaye Signed: Prince.Edun Akenzua Secretary-General
Chairman Secretary-General
---
Iyi-Ewuare Union (Nig.) Limited,
Benin City
15thJune 1983.
Chief G.O. Igbinedion
The Esama of Benin
Benin City
Our dear Patron
APPRECIATION
We, your entire children of Iyi-Ewuare Union Nigeria Limited humbly wish to use this medium to express our sincere thanks to you for the kind donation of N1,000.00 (One thousand naira) you made to us at our Union's annual dance held at Ogbe Stadium on the 30th day of April 1983.
We are grateful Chief. We pray God Almighty to replenish your purse in a thousand fold. God bless you.
Signed: J.E. Imade (President)
S. Airhuoyo (Secretary General)
---
Military Governor's Office
Government House
Benin City
Bendel State
January 2nd, 1985
Chief G.O. Igbinedion,
1st Avenue,
G.R.A.
Benin City
BENDEL STATE DEVELOPMENT FUND
LETTER OF APPRECIATION
I wish, on behalf of the Government and people of Bendel State, to thank you immensely for the very substantial donation of N200,000.00 (Two hundred thousand naira) which you made to the Bendel State Development Fund when the fund was launched on Saturday, 15th December 1984.
By your substantial donation you have identified yourself in a very remarkable way with the development efforts of the present Administration. I need hardly emphasize that your contribution will go a long way to enhance the much desired socio-economic development of the State. You are also re-assured that the fund will be managed judiciously and with the greatest sense of accountability and probity.
Once more, I wish to express my profound gratitude for your outstanding act of generosity and patriotism.
We will continue to count on your co-operation at all times.
Signed: J.T. Useni, fss, psc, mni,
Brigadier
Military Governor
---
Otu-Ihegbe (Age Group) of Uhen,
Uhen Town,
Ovia Local Government Area,
C/O P.O. Box 1157,
Benin City.
Dear Chief "Esama"
Letter of Thanks and Appreciation
We, the above-named Union of Uhen Town in Ovia Local Government Area, sincerely send our thanks to you, and also openly express our appreciation over the personal donation of well over one million naira you single handedly made at Iguobazuwa during the just concluded state development fund raising exercise. This is the greatest pride ever done to the Ovia community.
We are equally watching with keen interest, the development programmes you are presently executing in Okada your home town, and we hereby pray you not to relent in your efforts to give Ovia its proper place in Bendel.
We are humbly requesting you to grant a selected team of this Union an audience in your G.R.A. residence on Sunday, 1st September 1985 at 11 a.m. prompt, only after the acknowledgement of this letter.
Signed: Secretary: Otu-Ihegbe of Uhen.
---
---
---
---
---
---
---
---
---
---
A great son of Africa who has become a towering international success. This is the powerful moving biography of one man's determination to win-

H. R. H. Oba Lamidi Adeyemi lll, The Alaafin of Oyo
This remarkable biography weaves the story of an endlessly fascinating man, his family and business empire-

Dr. Brian Aghedo PhD
Do you have what it takes to be an industrialist, businessman and philanthropist? Chief Gabriel Osawaru Igbinedion's life story tell how, withouth mortaginng your soul-

Chief Pearnel Charles, Jamaica
Sir Igbinedion is a great man of trmemendous and unqualified resources. His humility and great service to humanity coupled with his willingness to help the less-privileged has earned him respect and admiration the world over-

Prince Abubakar Audu, former executive governor of Kogi State, Nigeria.
Igbinedion does not believe in failure, he says, "don't be afraid, everyone has them and sometimes they can be resurrected with resounding success- Alfred Eghobamien Esq.SAN

Afew Acknowledgement of Chief Igbinedion's Sense of Philanthropy