LIFE AT SCHOOL
At Benin City, his life materially did not witness any noticeable improvement. The situation remained hard, apparently worsened by the death of his father who though while alive was not always able to provide his son with most of his basic requirements, nonetheless, played the role of a father which no other person could play. The young Osawaru seemed to have lost out on all sides. There were moments he could not even meet up with the payment of his school fees of two shillings and six pence and had to travel to Okada for it. In an interview with him, he disclosed the details of this particular episode which was however, just one of several.
He left for Okada with only six pence in his possession which he expended on transport and food. At Okada he spent the best part of a month in search of two shillings and six pence which took him out of school; and when eventually he was able to get it, he did not have enough money to return to Benin City or even to eat on the way back. He had to walk. On most occasions he had to do odd jobs to pay for his education. And so, at Benin City living for Osawaru was not in any way pleasant. Financially, his life was as difficult in Benin as it was in
Okada and psychologically, it was even worse because of the gap created by the untimely death of his father.
Schooling in Benin, nevertheless, exposed the young Igbinedion to numerous challenges: the challenge of his academic work against the background of competition with colleagues of comparative advantage; the challenge of mixing with friends from more affluent backgrounds, the challenge of adjusting to city life from the background of rural upbringing and the challenge of serving under the disadvantaged position of a househelp. The records and investigations reveal that Osawaru's academic ability did suffer some setback as a result of his change of environment. Academically, he was a match to his colleagues but he had difficulty in properly measuring up because of extraneous factors. While most of his colleagues were regular at school, young Igbinedion spent the bulk of his time scouting for school fees and maintenance allowance. Outside the academics, he possessed several other qualities which a number of his contemporaries did not seem to have. At that tender age he had acquired a rare capacity for leadership. Popularly known as "Ovbiebo" because of his features and fair complexion, he was very neat, strong willed and self-asserting and was always first at manual labour. Most of his colleagues and contemporaries depended on him for assistance in manual labour and for such assistance he was usually compensated with a farthing worth of yam porridge popularly known as Ikpowo. He was good in sports particularly in football. He was said to have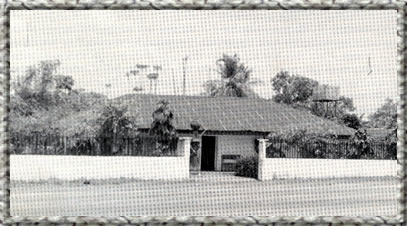 Gabriel Igbinedion's Birthplace- Okada Village
exhibited a great degree of self-confidence and independence. These qualities earned him the position of General Monitor and as such was exempted from labour and other burdens, qualities that eventually made up for whatever shortcomings he suffered as a result of the difficulties he experienced. Reverend Usunalele, his former Headmaster confirmed that the accolade "Exemption", which has become synonymous with him arose from his background at school.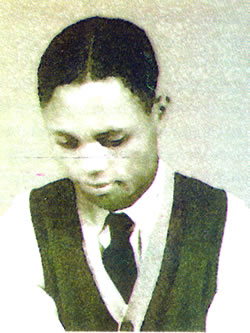 GYoung Igbinedion after the death of his mother, Madam Okunozee Igbinedion on 26th November 1959
Against the environment of the harsh economic situation the young Igbinedion plodded on relentlessly. From his primary education at the Baptist School in Benin City, he moved over to Eko Boys' High School Lagos, where he was admitted with three others from Benin City including Vincent Edebor now a famous Benin Sculptor. In Lagos young Osawaru lived with Mr. Ben Edemakhiota. Needless to stress that his Lagos academic sojourn was adversely affected because of lack of funds. He had the zeal to learn but his capacity and ability were marred. The will was there but the problem of finance remained an endemic one.
His academic life in Lagos, apart from the financial aspect which had become a recurrent variable, did not present as much of a challenge as that in Benin City. Firstly, the young Igbinedion had overcome the initial setback which appeared to have characterised his school life in Benin City. He had developed in age and had adjusted, to some extent, to the hardship that accompanied the early part of his childhood.
Secondly, the young Igbinedion was far away from home, in an environment where little or nothing of his past life was known and where his abilities were judged from his own personal achievement and capacity to sustain the pressures of societal challenges.
Thirdly, those qualities of leadership revolving around self-confidence which he inherited from his father, coupled with the usual imposing attitude, if you like arrogance, of the Benin man, accruing perhaps from his historical past, were to propel the young Igbinedion through the hazards of his Lagos sojourn.
He got on well at the Eko Boys' High School, Lagos. He played football and became prominent in most other sporting activities. Through sports he quickly gained respect from his teachers and colleagues alike. But it was not to be for long. He had to cut short his education in Lagos and return to Benin in 1954 for circumstances outside his control. He had no money to continue with his education and since he had no meaningful financial assistance of any sort and had to cater not just for himself but also his family members, the idea of gaining employment became most paramount. Moreover, Mr. Edemakhiota, the man who housed him in Lagos was transferred to Oshogbo making the young Igbinedion's decision to quit Lagos even more certain. He returned home and eventually became employed as a probationary teacher at Okoro II village. It was at this period his mother became anxious that the young Osawaru should take a wife. She was instrumental in securing for her son a wife from Usen her home town, Oredola Maria Agho, who bore him four children Lucky, Bright, Patience and Philomena.