IGBINEDION THE POLICEMAN
From the position of a council messenger where he functioned as a rural education promoter, Gabriel Osawaru Igbinedion enrolled into the Nigeria Police Force in January 1959. His joining the Police Force was preceded by an incident which he had himself found relevant to record in an interview. He was helped into the job by Mr. E. K. Kizor, a Benin based Senior Superintendent of Police whom he met during a festive occasion at the Oba's Palace in Benin. Mr. Kizor and Justice Stephen Peter Thomas who was also at the occasion were both interested in a beautiful bird and not quite conversant with the local customs, had each requested the young Osawaru Igbinedion to help catch the bird. Justice Thomas promised Osawaru £2 while Mr. Kizor offered to recruit him as a Constable in the Nigeria Police Force. Osawaru opted for Mr. Kizor's offer after consulting with a neighbour, Mr. Osarogiuwa. He successfully caught the bird for Mr. Kizor and in return got a place at the Southern Police College, Ikeja as a trainee Police Constable. This particular event showed a trait of consistent luck on the part of the young Igbinedion.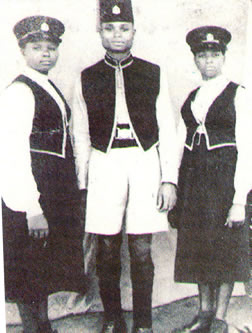 Young Police Recruits- Rose Omoifo, Gabriel Igbinedion and Priscilla Owotu
It would be recalled that following the death of his father, Osawaru served under various persons as a househelp, some of whom actually helped him, albeit partially, through the very hard moments of his life. He finished his primary education and high school under a most trying circumstance ending up eventually, first as a rural school teacher and then as a city council messenger. This catalogue of a life pattern showed a trend consistent with a ruthless self determination to survive, buttressed by the support received from some sympathisers.
And now arose the issue of his enlistment into the Police Force. He had left for the Oba's Palace to watch an event (lgue Festival) without knowing that he would attract the sympathy of the Police Officer who eventually assisted him to secure the police job. Admittedly he was given the job as a result of his personal ability and partly through the assistance offered by Mr. Kizor for whom he had rendered a service. But it is also true that his acceptance of the challenge to catch the bird and the success he made of it, was another evidence of his ability to survive difficult times. Nevertheless, that the young Igbinedion was the one who was called for the assignment, and that the dignitary was honourable enough to fulfill his promise of a job he made to him, reflected some luck on the part of the young man. The argument being raised in this analysis is to provide a foundation for the correct evaluation of those factors that influenced the societal disposition of Osawaru Igbinedion after he rose from humble beginnings to near boundless affluence.
But for now, let us return to the present. The young Igbinedion had gained a place in the Nigeria Police Force.
Before he began the training for the new position, an incident happened that registered indelibly in his mind till date. His mother, Madam Okunozee Igbinedion, nee Ihaza of Usen died 26th November 1959. The situation in which he was when his mother died, and his immediate approach to the problem created by the death could best be represented in his own words. In an interview, he aptly described his situation thus:
When my mother died, I had only two pence. I was then at No. 14 Lagos Street, Benin City. I went to Mr. Monday who was a co-tenant and a trader at Oba Market. I told him what happened to my mother and before he could say anything, I picked up one black shirt.
He requested for the money. I told him I would pay later. From there, I went to the Police Headquarters in Benin to inform Mr. Kizor who gave me £6.
I left and went to Justice Peter Thomas who gave me £2. I bought a coffin at Erie Street. I hired a lorry and took my mother home for burial.
This was the story of the erstwhile council messenger on the way to being a trainee Third Class Constable whose hope was severely dented by the sudden death of a mother whom he had looked forward to as his last resort. When his mother died he had only two pence at his disposal, but by sheer luck on his part and the goodwill of his neighbours he raised £8, a black shirt, and hired a vehicle to fulfill his objective. In 1973 Igbinedion exhumed the body of his mother for a befitting funeral at her family residence in Benin City.
Madam Okunozee Igbinedion's death opened a new phase in her son's life struggle. He was now an orphan who had no brother or sister to look up to, or associate with. Nevertheless, the young Igbinedion had to plod on. He moved on to the Police College determined, inspite of all, to survive. At the Police College he maintained his usual features. He was strong, athletic and intelligent. The pressures at home had waned considerably giving way to a new life in the young man. He made friends, and as usual, he did not find it hard to mix with those in the upper echelon of the Force. A colleague and contemporary of his had this to say of him:
"Mr. Gabriel Osawaru Igbinedion was a pleasant and interesting character, sometimes he could be simple and at other times quite complex, depending on how he slept and what side of the bed he climbed down from. What was consistent about him was his Benin nature. At all times he was a Benin man and always he remained the Benin man, proud of his past, confident of his present and hopeful of his future." ...READ ON