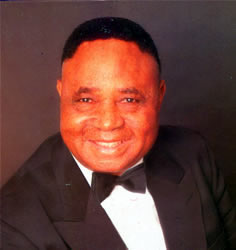 ---
---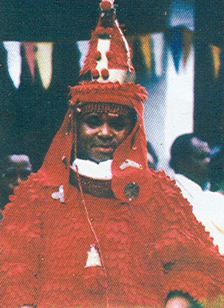 THE
ESAMA
OF BENIN KINGDOM
---
---
The Great Life of A Pioneer
Igbinedion as a Benin family name is now a household word. It has become synonymous with Aviation, Industry, Education, Finance, Medical Care and Rural Development at local, national and international levels. The man who has made this possible in Africa is Sir (Dr.) Chief Gabriel Osawaru Igbinedion, the Esama of Benin Kingdom.
Chief Igbinedion has attained great heights in life reminiscent of great achievers. He is a philanthropist and and a humanist of national dimensions and an industrialist of international fame...read on
IGBINEDION AS TRADITIONAL CHIEF AND FAMILY MAN
---
(ii) CHIEF IGBINEDION THE FAMILY MAN


Ideally this sub-heading for its size and significance ought to have constituted a heading of its own. But for the purpose of this biography it has been thought appropriate to observe brevity in some sections in order to focus on others. More importantly much has been said about Chief Igbinedion's family background, his childhood days and his adult life. This sub-heading therefore is to relate to his own immediate family, notably his wives and children. Here again there would not be the need to investigate the details of his family life particularly in regard to his early life which has already been dealt with.
Chief Igbinedion's wives contributed in one way or another and at one time or another to his upliftment and welfare. Notable is Mrs. Irene Igbinedion, nee Kiernan, whom the Chief holds in great respect, love and affection for her contribution to his life. Mrs Irene Igbinedion helped him through those teething years of his life to establish the foundations of his present position and bore him three successful and responsible children who today constitute part of the force for the promotion of the Igbinedion legacy. His Jamaican born wife, Lady Cherry Igbinedion, the mother of Omosede, Ivie, Amenze and Orobosa today assists in ensuring the continued sustenance of that legacy for which Chief Igbinedion has worked all through his life. Chief Igbinedion once observed:

"Since Cherry came into my life in 1977, I have more light because she relates to every aspect of my life as a wife, mother and friend. She serves as my adviser both in the private and public spheres. Our marriage is a true love story of commitment. Indeed she is my priceless gem."

It is known that Lady Cherry Igbinedion contributed immensely to the building and consolidation of Chief Igbinedion's business empire. She made an immense contribution by way of ideas to the establishment and development of the Okada Airline, the Igbinedion Hospital and Medical Research Centre and the Igbinedion Education Centre. She is also involved in the administration of these establishments, particularly the education centre where she is ably supported by her step daughter-in-law, Mrs. Eki Igbinedion, Secretary to the Board, Alfred Eghobamien Esq. (SAN) and her Advisory Council led by Professor J. A. Aghenta.


Chief and Lady Cherry Igbinedion on vacation in Naples, Italy

Sir Gabriel and Lady Cherry Igbinedion

The Chief's daughter, Okunozee with her three children

Chief Igbinedion with his son Peter, Director of Operations, Okada Air

The Chief's eldest daughter, Mabel with her husband Bethel Amadi
| | | | |
| --- | --- | --- | --- |
| | | | |
| Charles Igbinedion with his bride, Angela (nee Ero) on their wedding day | The Chief's daughter, Patience with her husband, Mr Osa Osunde on the occasion of their Native Law and Custom Marriage | | |
---
---
---
---
---
---
---
---
---
A great son of Africa who has become a towering international success. This is the powerful moving biography of one man's determination to win-

H. R. H. Oba Lamidi Adeyemi lll, The Alaafin of Oyo
This remarkable biography weaves the story of an endlessly fascinating man, his family and business empire-

Dr. Brian Aghedo PhD
Do you have what it takes to be an industrialist, businessman and philanthropist? Chief Gabriel Osawaru Igbinedion's life story tell how, withouth mortaginng your soul-

Chief Pearnel Charles, Jamaica
Sir Igbinedion is a great man of trmemendous and unqualified resources. His humility and great service to humanity coupled with his willingness to help the less-privileged has earned him respect and admiration the world over-

Prince Abubakar Audu, former executive governor of Kogi State, Nigeria.
Igbinedion does not believe in failure, he says, "don't be afraid, everyone has them and sometimes they can be resurrected with resounding success- Alfred Eghobamien Esq.SAN

Afew Acknowledgement of Chief Igbinedion's Sense of Philanthropy