...'cont'd
:: OKADA AIRLINE
"The airworthiness of our aircraft is one of our strong points. Apart from our own engineers who keep otir aircraft flying, there are the service companies overseas which carry out major maintenance of our fleet of aircraft, Aer Lingus, Dan Air, British Aerospace, Rolls Royce, Rogers Aviation and the suppliers of spare parts and engines, A.]. Walter Aviation, fuel companies such as Mrican Petroleum (AP), Total and Mobil in Nigeria, care for efficient refuelling of our aircraft and make it possible for better utilisation of our fleet and fast turn around on the routes we service. I would like to express my personal appreciation also to all of them for their contributions to our success...
"We therefore feel that we have justified the confidence the Federal Government of Nigeria had in us by initially issuing us an Air Operator's Licence.
"Little wonder then that our venture has further been crowned by our elevation to the status of "Scheduled Domestic Carrier" by the Federal Civil Aviation Authority of the Federal Ministry of Aviation. The best is yet to come; as we eagerly await the final modalities that will grant us permit to operate scheduled international flights.
"You will then agree that our experience is indeed A TALE OF SUCCESS ...That was Chief Gabriel Osawaru Igbinedion addressing the achievements of
Okada Airline in 1988 when the enterprise was five years old. By then the Airline had to a large extent found its feet having attained some recognition as a national carrier. But true to type Chief Igbinedion hoped for the best to come, not counting much on what had been acquired. Exactly what had been achieved by 1988 was again best represented by a publication which carried the background history of the growth and development of Okada Airline.
Established in May 1983, the Airline began its long journey to success with a fleet of 2 HS125, 1 Caravelle four BAC 1-11 aircraft acquired through British Caledonian from Sir Freddie Laker of Laker Airways. With a staff strength of 110 and load factors of 34% the idea was to ameliorate the plight of the teaming Nigerian airline users who had to go through merciless situations to secure both domestic and international flights. For instance, between 1981 and 1983, the number of passengers flying domestic and international routes increased from 2.3 to 3 million and 60% of this increase was for domestic network. Thus, when the Okada Airline commenced its official flights finally in October 1983, it had as one of its principal missions the alleviation of the pressure on Nigeria's only carrier - the Nigeria Airways.
Earlier in 1981 Chief Igbinedion had bought his first private aircraft, the HS125, formerly belonging to Shell Petroleum UK. The aircraft was launched and blessed at the Benin Airport by His Majesty Omo N'Oba N'Edo, Uku Akpolokpolo, Oba Erediauwa, The Oba of Benin. Also purchased was a BAC 1-11 Executive Jet aircraft owned formerly by the deposed President Ferdinand Marcos of the Philippines, which Chief Igbinedion refurbished for his personal use.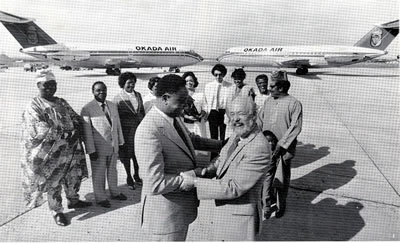 Chief Igbinedion taking delivery of the first two Okada Air British Aerospace BAC 1-11 Aircraft from Mr. D. H. Walter of British Caledonian Airways
The aircraft is still in use today as part of the Okada fleet.3
Between 1983 and 1984, the Airline witnessed a remarkable increase in its strength. The domestic coverage of the passenger aircraft which had been restricted to mainly the Lagos - Benin - Enugu - Port Harcourt axis was given a face lift with additional planes and improved services. Within the same period, the Airline branched out to air cargo services to meet the growing demands of air cargo industry. In February 1984, Okada Air purchased a Caravelle aircraft for the domestic service and a Boeing 707 Cargo aircraft which serviced international routes. Simultaneously, a McDonell Douglas DC8 was purchased and put on lease for international passenger service; along with an HS125 aircraft which was put on the internal routes for charter. By December 1984, another aircraft, Dornier 228, was put on the Niger State route at the request of the then Military Governor, Col. David Mark. This marked the beginning of regular air service to Minna Airport, thereby, bringing the total number of aircraft in the fleet to nine, induding two cargo aircraft for international routes...
The year 1985 ushered in an even bigger success story for the Okada Group. In August, four aircraft, comprising three Aerospace BAC 1-11 and one Shorts 330 planes were bought and put into internal service.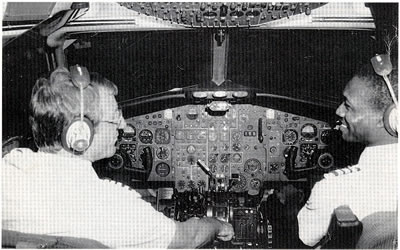 Okada Air's German-born Captain Deiter Schwem with Captain Hakeem Oyawoye